To The Communities We Serve
As we all find ourselves thrust into these unprecedented times, we want to take this opportunity to share with each of you the actions that have been taken by our funeral homes and team to keep all of us as safe as possible. At the Barclay Funeral Homes we strongly believe that families be given the opportunity to celebrate and memorialize their loved ones and we feel that the steps taken by our funeral homes allow these ceremonies to take place while at the same time protect our communities and team.
Let me assure you however, that our team is here to help and will assist all who require our services.
The following actions may be altered as Regulations change or more information becomes available. We will continue to monitor developments closely and improve our processes as quickly as we can.
Barclay Funeral Home Brockville ~ 061
Barclay Funeral Home Lansdowne ~ 254
Welcome To Barclay Funeral Home Ltd.


Serving Brockville, Lansdowne and the Communities of Leeds and Grenville
At the Barclay Funeral Home, we want to provide you with information about our services and facilities so that you have a complete understanding as to what we can offer you. Whether you are considering an earth burial or cremation, a traditional funeral ceremony or memorial service, there are many options available. Our funeral directors are dedicated, compassionate and understanding. We are committed to serving each family individually and to providing the services to acknowledge the life of a loved one.
The Barclay Funeral Home in Brockville & Lansdowne are family owned, locally operated, Canadian Funeral Homes. When it comes time to plan funeral services, whether in advance of need or at the time of death in your family, with our guidance and expertise, we can develop an appropriate arrangements to follow your wishes.
Please feel free to browse our pages to learn more about pre-planning a funeral and about grief support, as well as the traditional funeral and cremation services that we offer. If you have any questions or concerns, please feel free to contact us any time. Drop by the office as needed, or contact us via phone or e-mail. We are always here for you.
Furthermore, we understand that it is not always possible to attend a service or a visitation in person. In light of this, we've created beautiful interactive online tributes to memorialize your love one. Leave a condolence, share a memory, post a photo, light a candle, and more!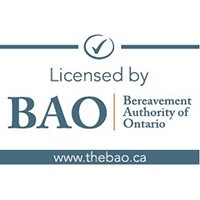 A Death Has Occurred
I need assistance now
A Death Is Imminent
I need to plan for a funeral
I'd Like To Pre-Plan
For myself or a loved one
Memorialization
For a loved one who's passed
Committed to Excellence in Service
The Ontario Funeral Service Association is a professional organization representing funeral directors and those in ancillary professions. We maintain strict adherence to the OFSA Code of Ethics.
The Funeral Service Association of Canada is a nation-wide group of funeral homes that promote the highest moral and service standards. As members, we have made pledges of honourable service to the public, the families we serve and those in our profession
Show me the manner in which a community cares for its dead, and I will measure with
mathematical exactness the tender mercies of its people, their respect for the laws of the land and
their loyalty to high ideals.

William Gladstone